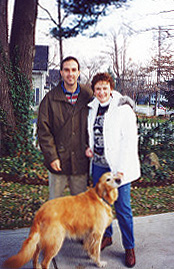 Our son Keith died by suicide on March 29, 1999, and my own journey into the darkness of grief started. Keith showed no signs of depression so our family and Keith's friends were not only shocked by his untimely death, but were suddenly and tragically confronted with this silent killer called suicide.

I read books and every article I could, to try and understand depression and suicide. As I looked through all my notes and articles, I realized that this information needed to be shared with others that grieve from a death by suicide. I hope as you check out my web site you will find comfort and knowledge. My only goal was to create a web site where suicide is de stigmatized and people who are suffering from depression and other neurological disorders will seek treatment.
Ninety percent of all people who kill themselves have depression or another diagnosable neurological or substance disorders, but too few seek suitable treatment. I have tried to give credit to each and every article that I have included in this web site. Thank you to everyone who have shared articles with me. A thank you to my husband Dick for writing his articles about Keith and encouraging me to do this web site. Also thanks to my two beautiful daughters, Carrie and Cindy, for giving me this web site as a Christmas present. I want to thank Keith for guiding me from above. He has given me the strength to do my part in educating others about the psychological pain that one suffers from the illness of depression.. Neurobiological disorders are as treatable as other medical conditions. I am a survivor of suicide. I do not want you to go through the pain of grief alone. When you hear of someone that is suffering from a loss of a loved one to suicide, please share any information you have learned while visiting, "The Gift of Keith". When you do, please do it in memory of all who died by suicide.
In Loving Memory of Keith,

Carol Loehr ( Mother)
Author of My Uncle Keith Died
e-mail address: Alosssogreat@aol.com


On May 17, 2010 I did a talk radio show with Gloria and Heidi Horsley on their Open To Hope Radio Show. The topic of the show was "Finding Healing and Hope After Traumatic Loss." You can listen to the show on demand at www.opentohope.com
The material provided on this site is for educational and/or informational purposes only. This site does not offer either online services or medical advice, or endorse specific persons or products. No therapeutic relationship is established by use of this site.