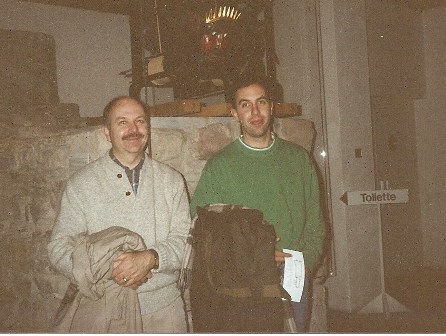 4/17/99
Dear Keith,
I went into your apartment for the first time on April 14. I apologize for not visiting you after your move to Minneapolis. I think my priorities were wrong...sorry.

As a consultant, I start through this by thinking about phase #1. For me, phase #1 is driving my car listening to the CD "Surfacing" and starting with track #2. For anyone who has lost someone, this is a good place to start. I cry a lot. It is supposed to be good for me.

How will I know when this phase is over? When I get sad, I say a prayer and think about all the wonderful memories. You would like that. You were a beautiful person on earth. You touched so many lives in such positive ways. Letters are pouring in from people I have never met. They help me know you better.

The good memories are plentiful. Your hockey team when you were six years old. Hockey practice at 6 a.m. at North Park, geese flying overhead in the sunrise.

You, Cindy, and Carrie on the beach; our favorite family vacations! You, as a young adult, making the UCLA crew team. And me, making the crew team coaches upset by showing up after practice with a trunkload of orange juice and doughnuts.

And our father-son salmon fishing adventure at the Iguigig Lodge. I remember sitting by the float plane, admiring your spirit as you waded far out into the river, pursuing your dream.

For a rookie fly-fisherman, I did catch some decent salmon, right? And I remember, at the end of the week, I suggested that we do this again. Your reply was "Sure, but you need to work on your fly-fishing technique."

I might just do that, Keith!
I miss you terribly, but I have so many wonderful memories!
Love,

Dad