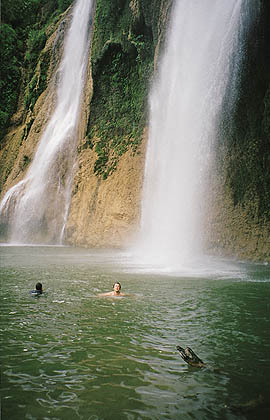 Keith Loehr's journal and photos from his trip through Thailand 1999
(written for Keith's Grandmother Loehr, who asked him to keep a journal for her)

6/16

This trip begins with a very long plane ride to Bangkok. I left Cleveland at 6:45 A.M., connected in Chicago, and landed in Los Angeles at 10:00A.M. P.T. from L.A., I flew for over 11 hours to reach Tokyo, Japan, then waited for two hours in the airport. The final leg of this trip was a 6 hour flight to Bangkok: Total travel time: 25 hours.
Flying Business Class was a great idea. I ate some good Japanese Bento meals, had a few glasses of wine, & slept a little. To ease my transition into Thailand, I spent my first night in the expensive ($185) Amari Airport Hotel.
6/18

The next morning, I ate an American-style buffet breakfast at the Amari, and caught a cab to the Southern Bus terminal. On the way there, I practiced my Thai language skills with my cab driver, he couldn't understand much of what I said, but he smiled & encouraged me.
The air-conditioned bus to Kanchanaburi cost only $1. Since the ride took almost 2 hours, I thought that this was very cheap. In Kanchanaburi, a bicycle cab drove me to the VL Guest House, where I checked into an air-conditioned room, with bath. The room was only 350 baht per night (about $8.50)
6/19

It is hot here! I walked to the Allied War Cemetery and along the River Kwai, but the 95 degree heat and extreme humidity forced me into a local restaurant. I practiced my Thai by ordering Khao Naa Khai (chicken on rice) & was understood by the waiter, to my surprise.
In the evening, I ate some dinner & went to the Apache Bar. This is an old-western style bar, complete with a Thai band playing country music. Due to Jet Lag, I was unable to keep my eyes open after 9PM.
The next day I ate an early breakfast, then headed to the bus station on a SONGTHAEW, which is a pickup truck with two benches for passengers. Finding the bus to the SAI YOK park was difficult, since the signs were written only in Thai, but I found it eventually. On the bus to SI YOK, I sat next to an English-speaking Thai man who daughter attends medical school at UCLA: small world.
In Sai Yok, I hiked to a waterfall, and along some nature trails, but didn't see much wildlife. I could hear some bird-calls and other animals, but the dense forest made it hard to locate anything. The man on the bus said that rural Thais often kill wild birds for food.

Back in Kanchanaburi, I met a couple of Brits. who were traveling for a full year. They were about to go South into Malaysia. After lunch, I went back to the hotel to get out of the heat, which I am still not used to yet.
6/20

I saw my first rain today. It poured for about 3 hours, then drizzled for a while. Luckily, the sidewalks of Kanchanaburi are full of shops & restaurants, so I was able to walk under their awnings to stay out of the rain.
Most of the food that I have eaten so far has been fairly mild, so I ordered a hot curry soup for dinner. It was so spicy, that I had to eat it very slowly, but it tasted great.
The next morning, I woke up early, ate breakfast, and caught a bus towards Lopburi I had to transfer twice, but I made it with no problems. I am always the only farong (Thai word for Westerner) on these public buses, and am a real attraction for the local people, who smile & try to talk to me. I just smile & nod, since I can't understand a word that they speak.
In Lopburi, I checked into a Chinese Hotel that costs only $6.50/night! Then I visited the palace of King Narai, who ruled in the1600s. This was a period of time in which Thailand was discovered by English, Dutch, Portuguese, & French explorers. Many young students were also visiting the palace, & some girls took a picture with me.
That evening, I walked to The Kala Shrine, which is a 13th century ruin in the center of town. Hundreds of monkeys live in this ruin and the surrounding area. They are used to being fed by tourists, & run up to passing trains, hoping that someone will throw something out the window. It was interesting to watch stray dogs chasing the monkeys up walls in the city.
After that entertainment, I got a little more adventurous and bought dinner from some street vendors. Since these vendors don't have menus, it is harder to know what you are getting. I stayed away from the mystery soups, & bought some grilled meat, meat pastries, & a coconut-bread dessert.
6/21

I woke up early and visited the ruins of a large 12th century wat (temple). I also strolled through the ruins of Constantine Phoulkon's residence. He was a Greek who was a top Thai official in the 1600s. Next, I took a bicycle cab to the zoo, where different types of monkey and birds are displayed.
I've been buying more food from street vendors. Today I bought an apple-like fruit that was very tasty. The vendors carry a lot of strange-looking fruits that I plan to try throughout my trip.
The next morning I caught a train North to Phitranulok. The trip was hot & took about 4 hours. I sat across from a lady & a little girl.
6/22

We tried to communicate in Thai & by pointing to words in my Thai phrase-book, and we were moderately successful. She tried to convince me to skip Phitronulok and go to Vdon Thani to meet her daughter, who is single.
In Phitranulok I checked into a hotel: my room didn't have air-conditioning, but costs only $3.50/night! I went across the street to a restaurant & ate chicken-coconut soup.
Surprisingly, I slept well in my un-air conditioned room.
6/23

In the morning I visited Wat (temple) Phra Si Ratama Mahathat. This is a very famous temple built in the 1300s. Many Thai people were there to pray. I took off my sandals, which is a rule for visiting temples, & sat in on some type of religious service. Everyone sits on the floor, either cross-legged or in the 'mermaid' position. This is to avoid pointing your feet (considered the lowest part of your body) at the large Buddha image at the front of the temple. A monk led the group in a type of chant.
Next, I took a tuk-tuk (3 wheeled motorcycle cab) to the folk museum. Farming implements, animal traps & descriptions of traditional Thai lifestyles were very interesting. I also visited a Buddha casting foundry & saw an exhibit which detailed the casting & forging process.
6/24

I woke up early & caught a minivan to Mae Sot. This is a town near the border of Myanmar (Burma). Since it is in the mountains, the weather is a little cooler.
The drive was beautiful, and the town is very interesting. There are a variety of ethnicities living here, including Hill tribe people, Burmese, Indians, etc....Supposedly, many are involved in trade with Burma. Also, there is a large gem-trade, dominated by Indians. I tried another interesting fruit today: the Ronbuton has a red & hairy skin, and the inside is a white lychee-type fruit-tarty.
6/25

A Songthaew took me to the border of Burma (Myanmar) the next morning. There is a bridge crossing the MOEI River, but it is closed due to arguments between the two countries. However, small boats cross back & forth, taking goods to Thailand. Burmese politicians have prohibited Thai goods from entering their country, in an attempt to reduce the trade deficit.
I spoke with a Burmese man who imports clothing into Thailand. He told me that his government has instructed the people not to speak to Westerners. They do not want their Socialist government to be questioned. Burmese Universities have been closed for a few years, due to student demonstration in favor of democratization.
6/26

I rode in a small pick-up truck from Mae Sot to Um Phang. This is a 5 hour ride through some spectacular mountain scenery. The road was rough.
Two British people were also on the truck Anthony & Rowena had been traveling for 9 months, and would continue through South East Asia for 3 more months. We agreed to arrange a trek together when we arrived in Um Phang.
We all checked into the Trekker Hall Guest House & arranged a 3 night trek which includes 1 day of rafting on bamboo rafts to a waterfall & 3 days of hiking to small hill-tribe villages.
6/27

Since a large group from Denmark is leaving on a trek today, Rowena, Anthony & I decided to wait until tomorrow to begin our trek.
Today was spent lounging around in the city of Um Phang. The city is quite small, and very peaceful. Most of the houses are fairly primitive, with thatched leaf roofs.
The next morning we left early to start our trek. The three of us, along with four guides boarded long bamboo rafts for a 6 hour float down the Mackhong River. the boats were made of 15 ft. long bamboo stalks bound together.
6/28

Although primitive, the rafts held together over small rapids, and the occasional collision with a rock, or submerged tree.
The scenery on our float was stunning. We passed through teak forests & under huge cliffs, some of which were probably 500 feet high. The wildlife was also impressive. We saw a large group of monkeys by the side of the river and they scrambled up trees to get away from us. I had my binoculars and identified several king fishers. The king fishers were stunningly beautiful and are supposed to be quite uncommon in Thailand. We also saw a few large water snakes.
At the end of our rafting trip we disembarked & ate a quick lunch before starting our hike. After a fairly difficult two hour hike, we arrived at the waterfall campsite. We dropped off our back-packs & hiked in to the falls. The waterfall is the 6th largest in the world & is incredibly beautiful. Water pours from a high cliff through trees growing on the cliff edge & into a pool of aqua-marine water. It then splits into a variety of smaller falls & continues downward. It isn't just one waterfall, but a bunch of them in one area. We took a swim in the main pool of water, which felt great after out hot & humid hike.
Our guides cooked us a good vegetable rice dinner & we went to bed early. The next day, we got an early start & arrived in Kotat (a small village) by 11A.M. This village is made up of Karen people, who live in small communities in the hills of NW Thailand. They aren't really Thai citizens, but have a quite isolated existence. The Karen people frequently migrate across the borders of Thailand, Laos & Burma & don't consider themselves citizens of any country. They have been persecuted to some degree, in Burma, but Thailand lets them live unmolested.
6/29

The Karen people live a very traditional, pastoral existence. They grow rice & corn & other vegetables & keep some live stock. While were in Kotat, we were able to observe traditional hill-tribe life, including the castration of a pig ( which I didn't watch too closely).
Kotat was just a resting spot for us. After lunch, we hiked to a more remote Karen village named Teepotee. This hike took 4 more hours & included one very difficult mountain climb. Going up & down hills was made especially hard by the rain. The paths were very muddy & all of us fell in the mud at least once. It rained during our hike & we all got soaked; at least the rain cooled us off a bit.
We arrived in Teepotee & met the chief of the village. Phat, our lead guide, explained how the women were dressed. Married women wear Sarongs, which are long skirts tied around their waist. Unmarried women wear dresses, colored black, blue, or white. The married women's Sarongs are a beautiful bright pink color. We saw a women weaving one in a traditional loom. It takes them about a week to make one Sarong, but they were selling them for the equivalent of $4 U.S. Dollars.
6/30

We spent the night in the chief's house, & before bed, I sat around the fire with our guides, the chief, his wife& other women & men from the village. Phat interpreted for me. The Karen people speak their own language, and Phat can speak Tahi, Karen, & some English.
We awoke to the sound of roosters crowing ( a common sound in rural Thailand) & left for our final day of hiking. Our hike took about 5 hours & was very tough. We had to cross rivers & go up and down many hills. Finally we arrived back in Um Phang, where Rowena & Anthony left for Mae Sot., while I took a long shower.
7/1

I rode back to Mae Sot from Um Phang. Once again, the scenery was great, but the ride was rough & nauseating. After checking into the Porn Thep Hotel & dropping off my horribly dirty laundry, I went out to dinner with Anthony & Rowena. Since they were heading to Mae Hong Son (another small town) and I was heading to Chiang Mai, we said our goodbyes.
The next morning, I caught a mini-bus to Tak, and connected to a bus to Chiang Mai, which is a larger city in Northern Thailand. I checked into the Roong Reung Hotel, ate an interesting Northern Thai curry for dinner & went to bed early.
7/3

Ate breakfast at the JJ Bakery which was clean, air-conditioned and served Western Breakfasts. Chiang Mai is a major tourist destination, and therefore has many English-speaking restaurants & other tourist services.
I signed up for a three day Northern Thai cooking class. Supposedly, the class will teach me how to prepare traditional Thai dishes, and how to substitute ingredients so I can cook in the U.S., when Thai ingredients aren't easy to find: should be fun.
7/4-7/5
These days were spent in Chiang Mai. My cooking class didn't start until 7/6 so I had plenty of time for sightseeing in and around the city.
One morning, I had a tuk-tuk driver show me the various handicraft factories. The first one that I saw was a silk factory. Ladies were performing every technique in the weaving process, from making the thread from silk cocoons, to dyeing the thread, to weaving the fabric.
I also went to a lacquerware factory. The end product is fairly tacky, but the process was interesting. They either weave bamboo or carve teak to make the product to be lacquered.
Then, using black sap from some type of tree, the product is coated seven separate times. Finally, artists either paint or design on the product, or use gold leaf to make a picture. Some of the teak products were inlaid with a pearly-shell before lacquering.
The jewelry shop was neat. I saw the jewelry making process, which consists mainly of melting gold or silver & hammering & shining the finished product. The silver factory was similar, but some of the silver pieces were enormous & very intricately designed.
Finally, we went to the leather shop, where a lady showed me the many types of leather that Thais use to make a variety of products. Sheep, Cobra, Sea-Snake, Elephant, sting-ray, & crocodile are all used. I bought a high quality elephant-skin briefcase. They assured me that elephants were not killed to make the bag, they only use the skin of elephants that die a natural death.
Another interesting place that I visited is the Chian Mai museum. On display were woodcarvings used in the local temples.
At night, a large area within the city of Chiang Mai becomes a night-bazar. Vendors sell hill-tribe crafts, fake antiques, & other stuff.
I walked around for a couple of hours one night but nothing really appealed to me. I've been looking for small rugs or tapestries to bring home, but I haven't seen anything like that.
The rain hasn't stopped falling for 2 straight days. Since many of the sidewalks are covered with awnings, walking isn't too difficult, but I'm glad that I brought my rain jacket.
7/6-7/8

I spent these three days at the Chiang Mai Thai Cooking School.
The first day, we were shown all of the ingredients used in Thai cooking. Coconut, Fish Sauce, Shrimp Paste, Lemongrass & Tumeric are some of the more unusual ones. After we started cooking, it became apparent that Thai people use a lot of hot chilies in their cooking.
The food seems like a fairly simple type of food to cook, especially compared to something like French cooking. Most of it is done in a Wok, which is less intimidating to me than an over. Also, the preparation of the ingredients not the cooking itself, is the time consuming part. The Thai chef doesn't have to worry about # of minutes of cooking and cooking temperatures very much, as most dishes are cooked quickly in the Wok.
We made a variety of dishes, including hot & sour prawn soup, a variety of curry dishes & a couple of desserts & salads. All of them seemed relatively easy to make, as long as you can find the ingredients. The chefs told us what substitutions could be made, if we can't find all of the ingredients.
7/9

Today I ate a late breakfast & took a cab to the Chiang Mai Airport. Since everything is so cheap here (including air transportation I decided to save myself some time 7 aggravation & take a flight to my next destination-Ko Tao.
After arriving on Ko Samui, a larger island South of Ko Tau, in the Andommen Sea, just East of the Southern Thai Peninsula, I took a ferry to Ko PHANGAN. Since no boats were leaving for Ko Tao this late in the day, I stayed the night in a beach bungalow on Ko HANGAN.
7/10

The next day, I took a swim in the very warm water, laid in the sun for awhile, then caught a high speed boat to Ko Tao. This island is beautiful & quite small (maybe 10 square miles). It is supposed to have great diving, & due to the large number of dive shops, cheap prices.
My first hotel (really just a collection of bungalows) choice was full, so I took my cab-driver's advice & went to BAN'S dive shop & "resort". I checked into a small bungalow, with views of the beach & sunset for only $7.00/night. The bungalows aren't fancy, but they are well built, & have a nice porch to sit on. Since I'm so close to the beach, I guess air-conditioning isn't really necessary.
I started a Scuba Diving certification course also. The course is licensed by PADI, a famous American Scuba company, & training will allow me to dive all over the world.
After class, I ate a fantastic fish dinner for about $3. It consisted of two grilled fish, caught near Ko TAO, covered with a spicy Thai BBQ sauce.
7/11-7/13

These three days were spent in an Open-Water Diver training course. We learned all of the techniques necessary for SCUBA Diving.
The course consisted of classroom lessons, testing & actual SCUBA Diving. The first two dives were down to 12 meters ( approximately 40 feet) in depth. Our instructor had us demonstrate a variety of skills to be sure that we were comfortable with our equipment, & that we could handle emergencies such as a loss of air.
The next day, we took two more dives to 18 & 16 meters. We had to demonstrate more diving skills & then we took a swim around some coral reefs. Floating through the water is amazing & I began to feel very comfortable underwater. At this point in our training we are now able to relax & enjoy the coral reefs & fishes that we see while we are diving.

We also learned about decompression sickness (the bends) & how to avoid getting it. We used dive tables which allowed us to calculate the amount of time we could safely spend at a given depth & how many dives, at certain depths & with certain waiting periods, we could do in one day. The underwater world is fascinating & diving is a great way to learn more about it.
7/14
Today, I put my diving certification to use by going on a couple of "Fun" Dives. Just to be safe, 3 of us dove with a Dive-Master, who knows the area well & who is an experienced dive planner.
These dives were deeper than we had previously attempted, up to 24 meters (about 80 feet). Since I didn't have to demonstrate my skills to an instructor, I was free to enjoy the scenery.
We saw a variety of fish, including big Groupers, a sting-ray, & an eel.
7/16-7/17

Since I have enjoyed Scuba Diving so much, I decided to enroll in the Advanced Course. We went on 5 advanced dives and learned some new information.
The first advanced dive was a navigation exercise. We had to navigate underwater using a compass. To pass this segment of the course, each of us had to navigate a strainght line & 2 square patterns. this is fairly difficult due to currents.
The second dive was called Peak-Performance buoyancy. In this exercise, we worked on our neutral buoyancy skills, and had to swim through plastic frames to prove our buoyancy skills. In the most difficult drill, we had to swim into each frame upside down then we had to hover in this position using our lung volume to stay still.
The third dive was a night dive. This was my favorite. We went underwater in complete darkness & used flashlights to see. Although a little disconcerting at first, the experience was fascinating & very peaceful. One highlight was a 5 foot long Barracuda which we followed for 10 minutes, gliding over the reef. We shone our lights on fish in front of the
big Barracuda & it would attack them; what an experience!
The next day, we finished the course with a deep dive (100 feet) & a multi-level dive. Both of these divers are important to understand, due to Nitrogen absorption and the possibility of "The Bends". To avoid these problems we learned how to use dive tables.
On these dives, we encountered some Trigger fish. Thesse fish are very territorial & about 3 feet long. They have teeth like a bird's beak. One of these fish attacked us on the deep dive. It bit my fin, but actually got my partner on the foot: she had some teeth marks on her ankle! We were able to get away by kicking at the fish & leaving its territory.